About
RH Custom Guitars are designed and built in Southern California by Rick Harrison. 
Moreover, Rick is an accomplished guitarist and a perfectionist that takes great pride in providing his customers with outstanding guitars. 
Lastly, His guitars are far beyond the normal "custom built" guitar and based on their testimonials those that play these fine instruments agree.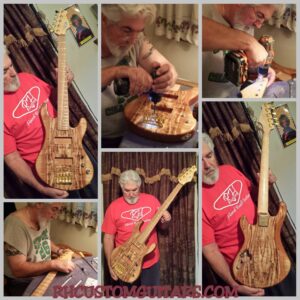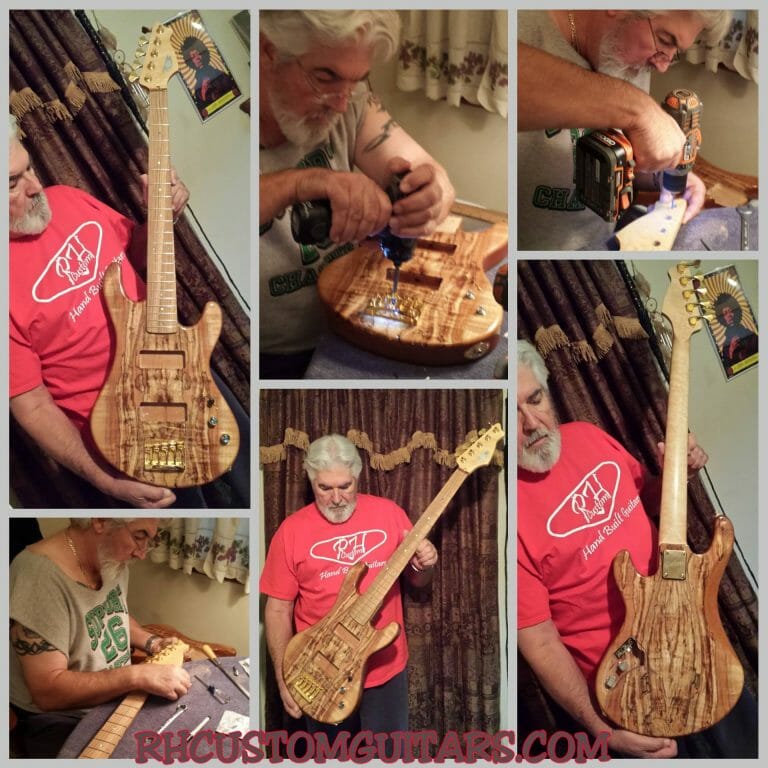 To summarize, RH Custom Guitars are designed to provide the guitarist with a multitude of sounds that can be achieved with only the knobs and bar on the guitar. Therefore, no pedals are needed. Watch this happen when the RH Custom Barnyard Boy is played.
Our Collaboration With George Amicay
We are proud to announce that George Amicay and RH Custom Guitars have teamed up to produce a limited run of George Amicay hand carved guitars. High quality, hand built, pieces of art that simply will take your breath away. This is a rare case in which old meets new and what has been produced will blow your mind!
About George Amicay
Noteably, RH Custom Guitars always seeks out the best craftsmanship when it comes to our one of a kind designs. We are thrilled to offer collaborative efforts between us and George Amicay. Our first collaboration is "The Cowboy" (shown below).
George is a living legend when it comes to creating playable art. He has worked for the following artists:
Ernie Isley (Isley Brothers) 3 Stratocasters
Tim Commeford (Rage Against The Machine) Jazz Bass – Hand Carved Broncos Logo
Jakob Dylan (Wall Flowers) Telecaster, Inlay
Bob Dylan Chrome Stratocaster – Design and Inlay
Mathias Jabs (Scorpions) Stratocaster – Inlay of Planet Mars on all Position Markers
Wyland (Artist) First Breath Stratocaster He Painted
Merle Haggard Design of "Tough Dog" Inlay Telecaster
Waylon Jennings "Flying W" Design and Inlay, Telecaster
Waymon Tisdsle-Jazz Bass, Inlay
John Shanks (Melissa Ethridge) Celtic Design Inlays – Stratocaster
Eric Clapton, Pure Gold Leaf Covered Stratocaster
Target Racing-Chip Ganassi, Hand Carved to look like one of his Race Cars for Inaugural
Audley Freed (Black Crowes) Telecaster
Billy Idol, Inlay Stratocaster
Michael Anthony (Van Halen) Jazz Bass
Fender Catalina Blues Festival 5 Stratocasters T
Tony Melman, 2 Stratocasters and 1 Telecaster
Richie Sambora (Bon Jovi) Star Inlays, Stratocaster
Rick Nielsen (Cheap Trick) Checkerboard Bajo Sexto Telecaster
Elliot Easton (The Cars) Inlay Telecaster
Will Ray (Hellicasters) Skull Inlays and Gold Leafing on his Signature Strat-Telecaster
Anita Cochran, Hand Carved and Inlaid Custom Thinline Telecaster used in the movie "The Dukes of Hazard Go To Hollywood"
Sergio Vallin (Mana) Fender Showmaster, Inlaid and Carved Headstock


The word legend is often over used, but in the case of George Amicay it only begins to tell his story. One of the most highly sought after custom guitar builders George began his career at Fender Guitars. Quickly rising to Master Builder his guitars became highly sought after by collectors and musicians. It was and still not uncommon for clients to patiently wait months for one of his masterpieces.
My review of these custom made guitars goes something like this. You will not find another guitar that can do all the things these custom-made guitars can do. First of all the craftsmanship is unsurpassed! Number two, they are very musical sounding guitars. What I mean by that is, the notes you are playing
RH Custom Guitars makes some of the finest handbuilt guitars I've ever played! Attention to detail, great action, sound and sustain. All the best attributes of outstanding performance! I am excited about your work! Love the result and cost. Thanks to my friend for the recommendation.
I have seen, played, and experienced a lot of guitars and I don't own very many… because a lot are way over-rated, but if you want the ultimate in a Custom Shop Guitar, this is it…and they can prove it! The craftsmanship and creative design are second to none and the out of box
What's New At RH Custom Guitars?
Contact us for more information and to purchase.